Hot Springs museum caters to Star Wars fans | News
HOT SPRINGS, Ark. (KTHV) - On Hopson Avenue in downtown Hot Springs, there's a bright yellow building filled with Star Wars memorabilia.
And on the eve of the big release of The Force Awakens, it's a Star Wars fanatic's dream you have to see.
Episode 4, A New Hope, was the 1977 Star Wars movie that started it all for Jon Clowers. The Hot Springs man began collecting Star Wars memorabilia as a child.
"It got so big, I didn't know really what to do with it. I thought, you know, this stuff encourages me so much, and there's so many people following Star Wars. I love to put it on display, so people can see it and enjoy it and kind of see where Star Wars really came from," Clowers explained.
Clowers opened The Galaxy Connection in Hot Springs as a place where families could come and be entertained.
"Some of its vintage toys, some of its life size props. You're going to see a little bit of everything."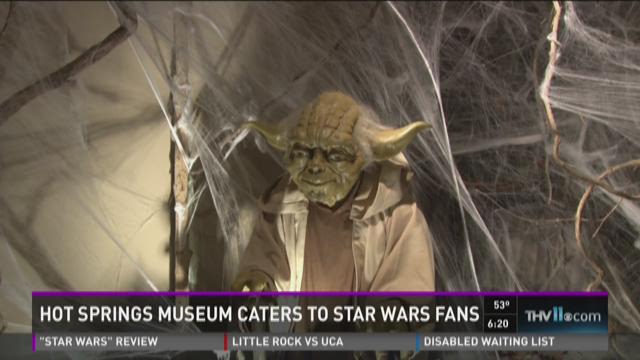 As you walk through the collection, visitors are allowed to take as many photos as they want, and a tour guide is available to answer any questions.
Tour guide Richard King led THV11 through this small galaxy located in Hot Springs.
"This is actually set up for the kids to come in here and act like they're doing spaceship stuff," said King.
One of the really neat things at The Galaxy Connection is a handmade X Wing Fighter. Clowers said they allow kids to get inside and take pictures.
"My childhood, kind of remember what inspired me, and that's kind of how this collection started was just a few things here and there."
Now Clowers' collection spans an entire building for all ages to enjoy.
"Nobody does it like Star Wars. They're going to put it out there on plates, cups, PEZ Dispensers, stuff for your birthday party."
They are open Thursday through Saturday, and will have some of their collection at the Mall Cinema in Hot Springs Thursday night.